Photo: Color Made Happy
Painted Pumpkin Ideas You Will Absolutely Love
Kids and grownups love Halloween. Celebrated the season by painting your pumpkins rather than carving them this year. We have provided some painted pumpkin ideas to get your creative juices flowing. Painted pumpkins last a lot longer than carved ones, plus you can get crazy when painting or decorating them. Have some fun with your family with a Halloween craft night!
Bohemian style decor is very trendy. Channel your inner hippie and paint your pumpkin bright colors to set a colorful Halloween mood. You can even display them as unusual fall home decor items.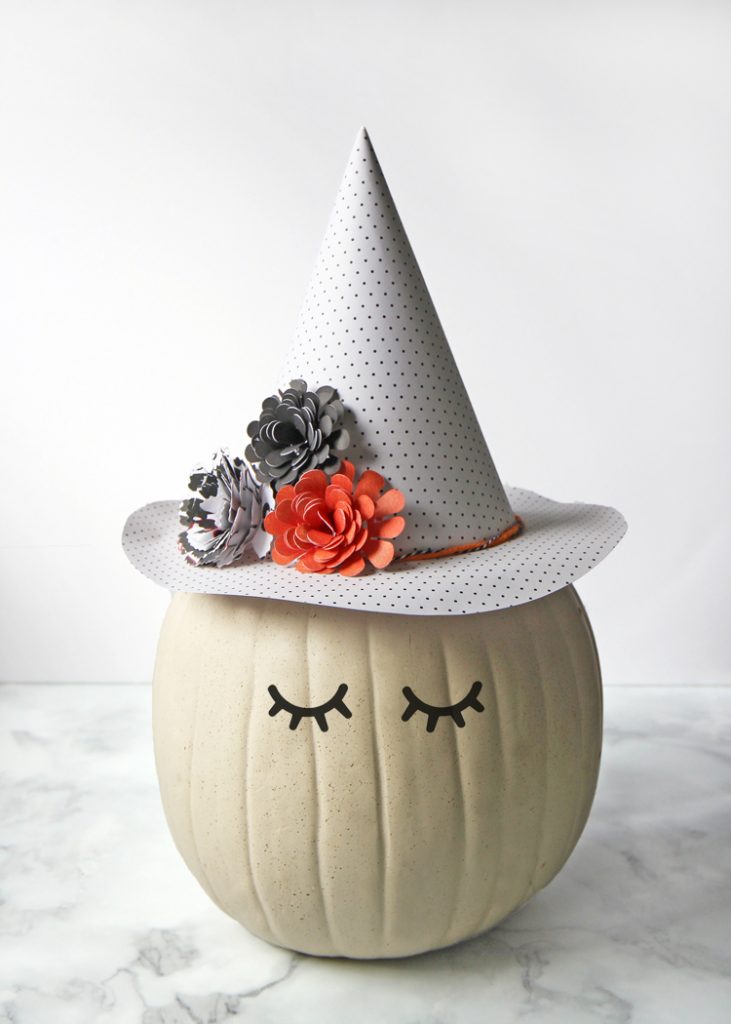 Photo:The Craft Patch
Pull out your Cricut and cut out some eyelashes for your pumpkin. Glue them on and top of your pumpkin with the cutest
floral witch hat made from scrapbook paper. Such lovely painted pumpkin ideas! This is a wonderful way to use some of your leftover scrapbook paper.
Witch Pumpkin With Paper Flower Hat from The Craft Patch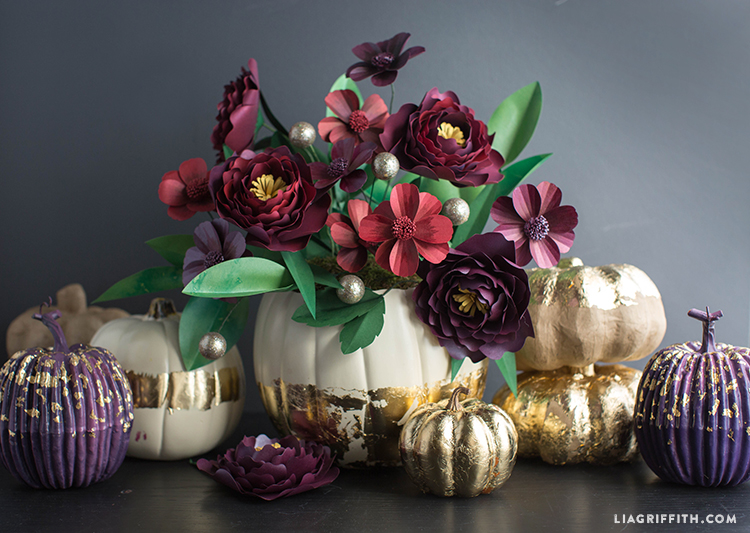 Photo: Lia Griffith
Lia Griffith is the queen of crafting, and you would not expect any less when it comes to her fall home decor and painted pumpkin ideas. Add gold foiling to your craft pumpkins and display with paper flowers for stunning seasonal fall decorations.
Gold Foil Pumpkins for Fall Decorating from Lia Griffith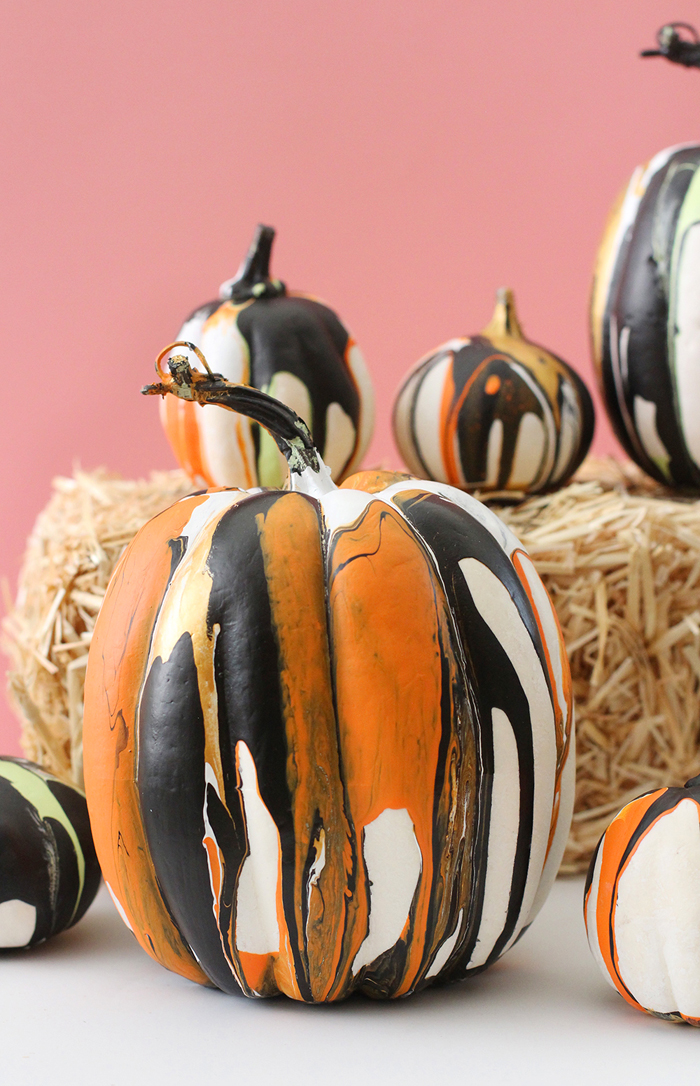 Photo: Bliss Makes
Paint pouring art has been very popular. The paint pouring art technique produces fabulous works of art that look as if painted by professional abstract artists. Even the artistically challenged can get great results using this process. Why not decorate Halloween pumpkins the same way? A great painted pumpkin idea!
Give Paint Pouring A Try! | DIY Marble Pumpkins from Bliss Makes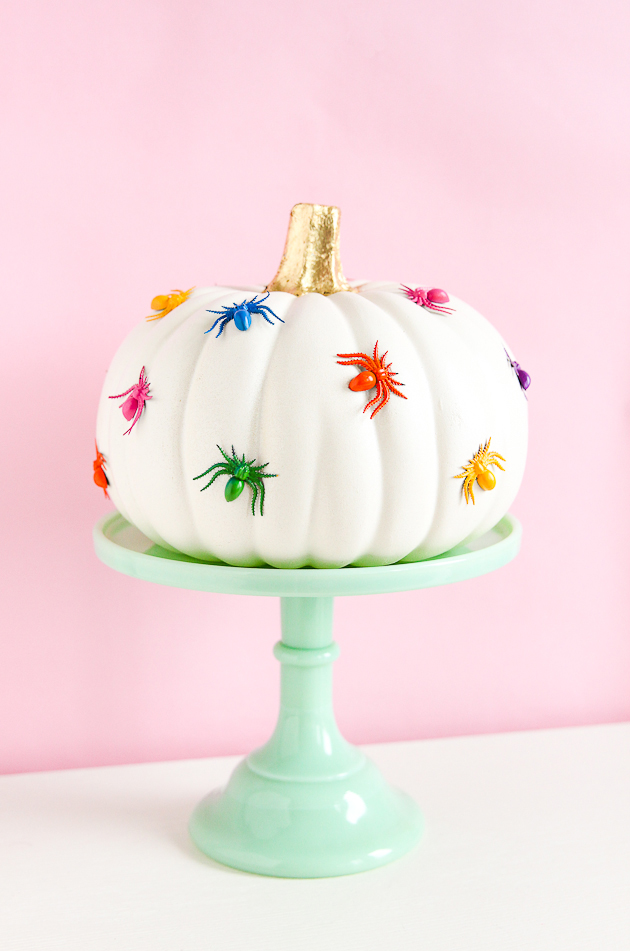 Photo: The Crafted Life
Glue some colored plastic spiders onto a fake pumpkin for instant Halloween fun. Kids will love doing this craft because it is quick and easy!
DIY Rainbow Spider Pumpkin from The Crafted Life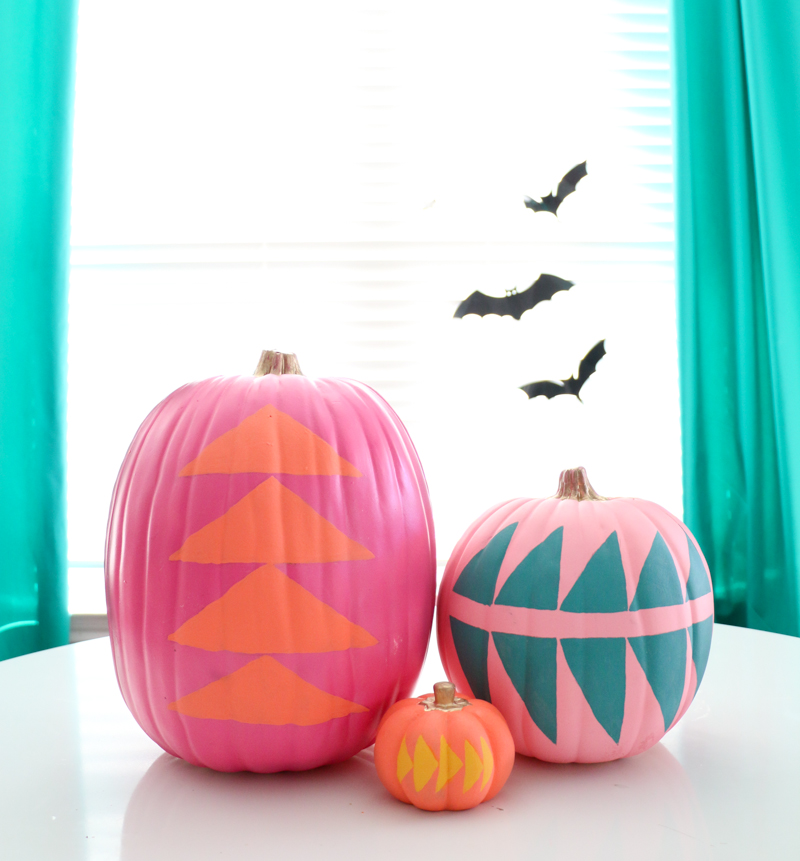 Photo: A Kailo Chic Life
Add some mid-century geometric design to your Halloween decor this year. Pink and teal look great together and add some fun.
DIY Mid Century Geometric Pumpkins from A Kailo Chic Life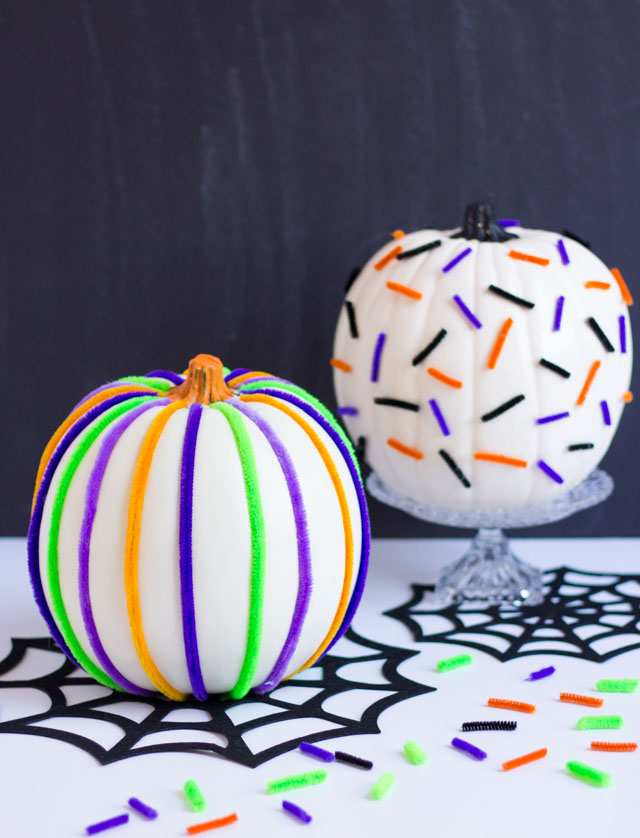 Photo: Design Improvised
Include your little ones in your holiday crafting adventures. These pumpkins decorated with pipe cleaners will be a crafting hit with the younger set.
Pipe Cleaner Pumpkins from Design Improvised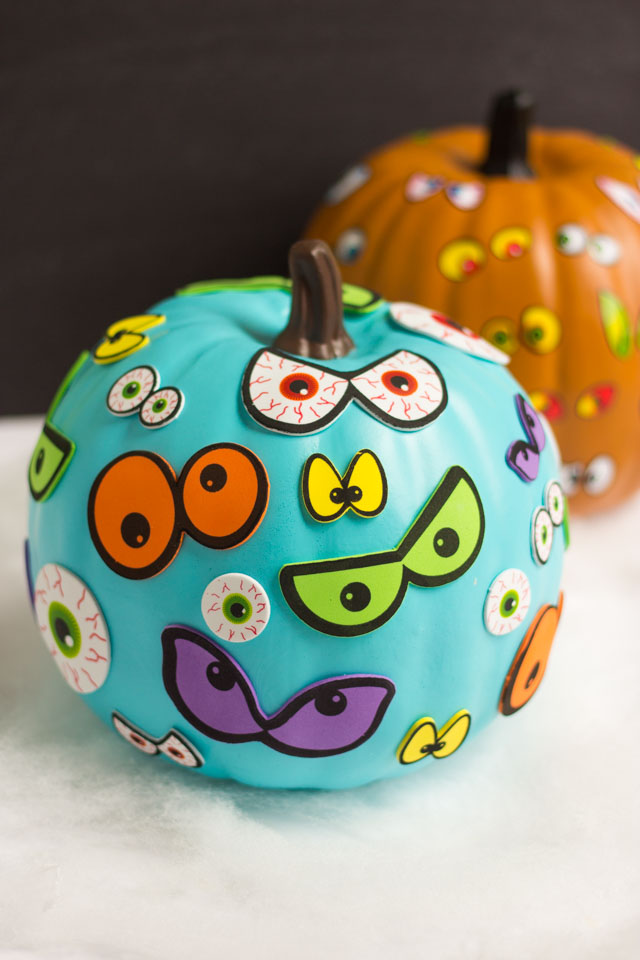 Photo: Design Improvised
Everyone loves scary eyeballs on Halloween! Paint a variety of eyes onto your pumpkin to set the mood.
Eyeball Pumpkins from Design Improvised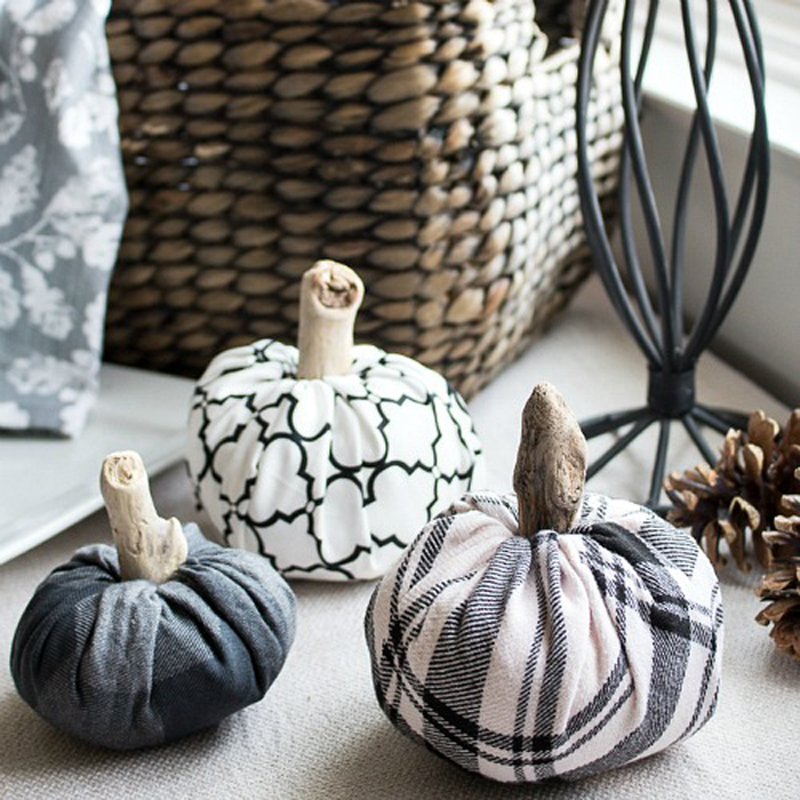 Photo: A Cultivated Nest
The new sew fabric pumpkin tutorial uses fabric to cover a fake pumpkin made with fill, but there is no reason you couldn't use this technique to cover a real pumpkin. Use your favorite colored and patterned fabric to make the cutest and most unusual pumpkin decor ever.
No Sew DIY Fabric Pumpkins from A Cultivated Nest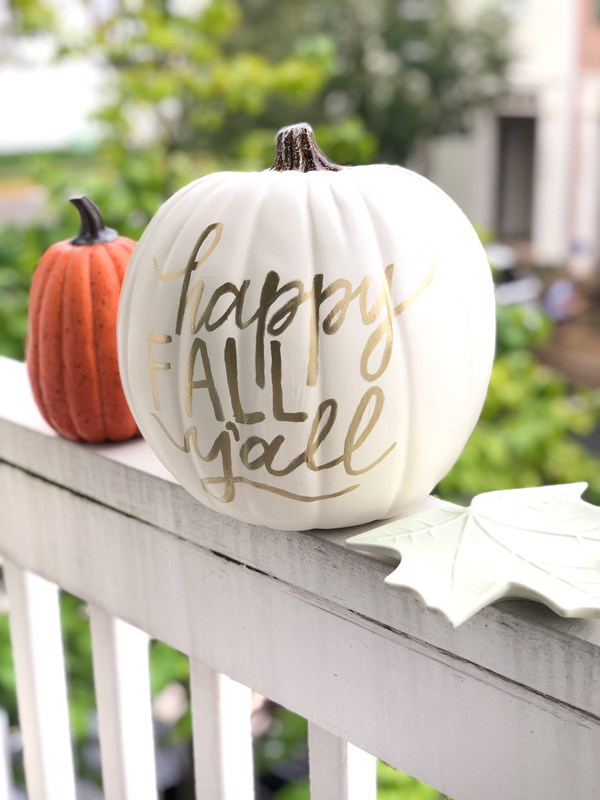 Photo: Cookies and Calligraphy
If you love calligraphy, then this is the holiday craft for you! Choose your favorite Halloween or fall phrase and draw it onto your pumpkin with a gold metallic marker using your favorite font. A festive way to greet all who come to visit!
DIY "Happy Fall Y'all" Calligraphy Pumpkin from Cookies and Calligraphy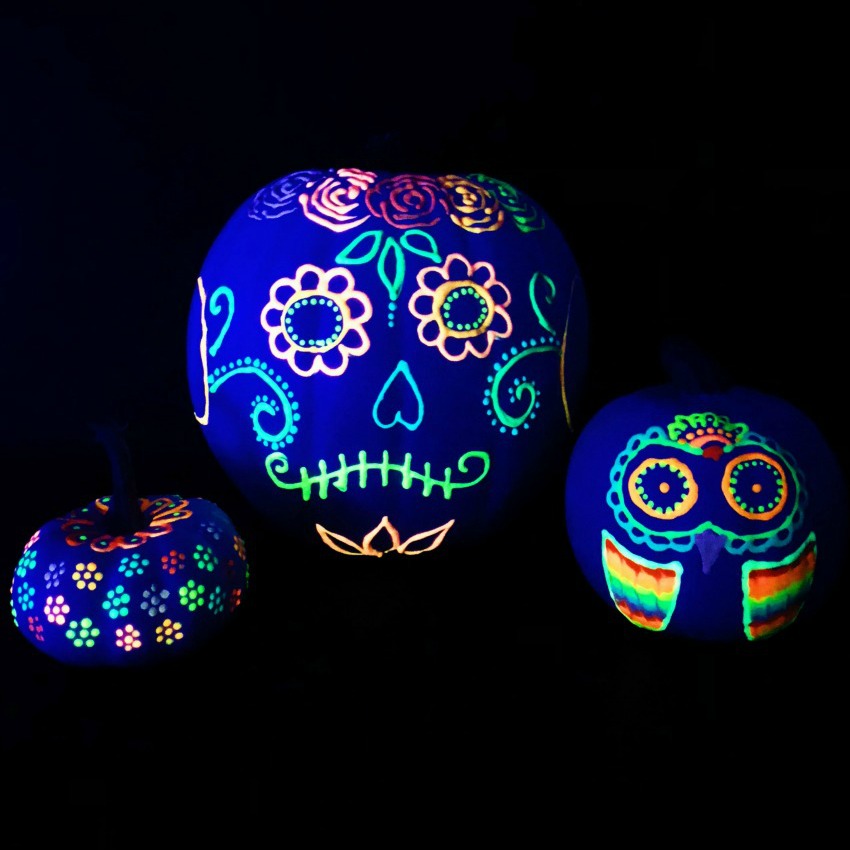 Photo: Color Made Happy
Boo! Show off your glow in the dark pumpkin art with a black light.
Glow in the Dark Pumpkins from Color Made Happy