Homemade Creative DIY Play Clay
Homemade play clay is one of those DIY crafts that you can whip up from items your already probably have at home. The next time your kids complain that they are bored, pull out these simple ingredients and magically transform them into colorful play clay that will keep them occupied for a long time. So simple to make and so much fun!
Materials Needed:
Mixing Bowl
Spoon
Measuring Cup
Measuring Spoons
White Flour
Salt
Powdered Alum
Cooking Oil
Cutting Board
Water
Gel Food Colors
Latex Gloves
Container to Store Play Clay (Airtight)
Measure out 2 1/2 cups of flour, 1/2 cup salt, and one tablespoon powdered alum. Place all of the dry ingredients into a bowl and mix thoroughly.
Measure out three tablespoons of cooking oil and add to the dry ingredients. Mix the dry ingredients and the cooking oil.
Add two cups of boiling water to the ingredients and mix well.
Dump the dough onto a cutting board and knead together with your hands.

Divide the dough into three parts and add a couple of drops of food coloring onto each dough part. You might want to keep your hands protected with latex gloves. Gel food coloring is pretty powerful!  Knead the dough parts and then store in an airtight container.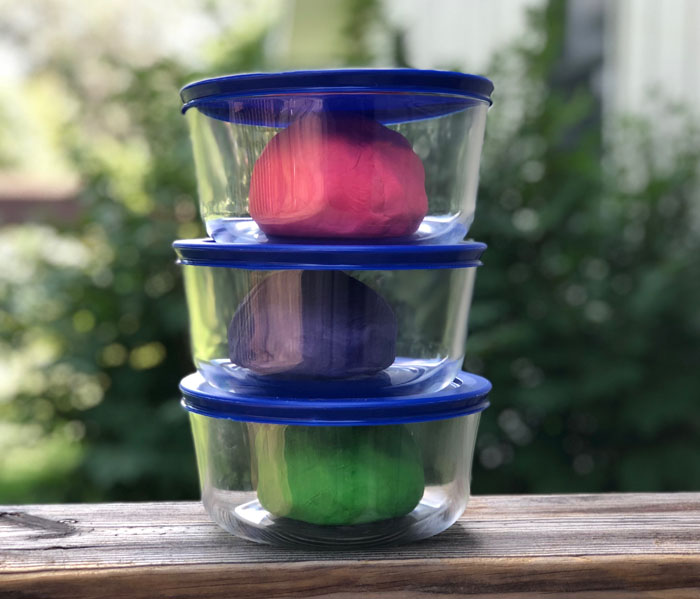 Your children can now have fun and be entertained for hours! Always remember to store your DIY play clay in an airtight container to keep it damp and pliable.