Paper Turkey Craft to Decorate Your Holiday Table

Thanksgiving is less than three weeks away! Can you believe it? This year has gone by so fast and Christmas will be here before you know it. So let's get crafting!
I love Thanksgiving and the holiday decor associated with the day! It is the only non-commercial holiday left. We celebrate our gratitude for the people and the good things we have in our lives. What is more important than appreciating our loved ones and our blessings in life!
Add to the spirit of the day with this relatively easy to craft holiday paper turkey decoration. Keep your children busy when you are cooking the holiday meal.Y our children will want to help make this cute little bird for your Thanksgiving table. They will also have fun and be proud of their contribution to the festivities.
The cute Thanksgiving turkey is made from cardstock and then doodled with a white gel pen.
Supplies Needed for a Thanksgiving Paper Project
Solid color earth tone card stock
Scissors
Template or die-cut files (download link below)
White gel pen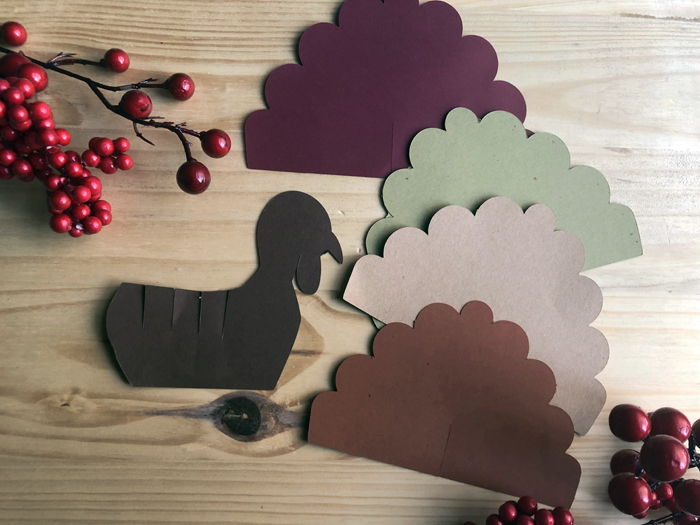 The paper turkey can be constructed by hand or with an electronic die cut machine. Files are provided in the download for both methods.
Option 1: Making the bird by hand.
Print out the PDF template onto a sheet of sturdy white cardstock. Cut out the various parts of the paper turkey craft with scissors and then use it as a template. Trace each turkey part with a pen or pencil onto the colored cardstock of choice and cut out.
Option 2: Making the bird with an electronic die cut machine.
Upload the appropriate file to your cutting software and cut out the parts with the colored cardstock of your choice.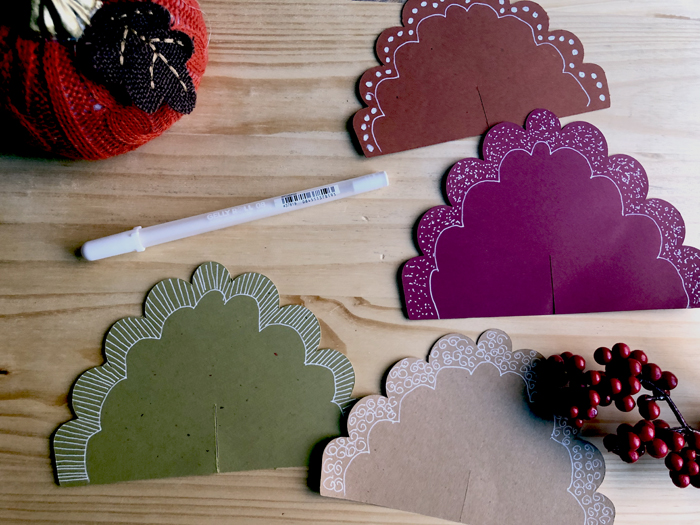 Get creative decorating the tail feathers of the paper turkey craft. Use a white gel pen to make artistic doodles on each tail feather part. You can follow my examples or you can add your artistic doodles. Let your children add their designs to the paper tail feathers to make them unique.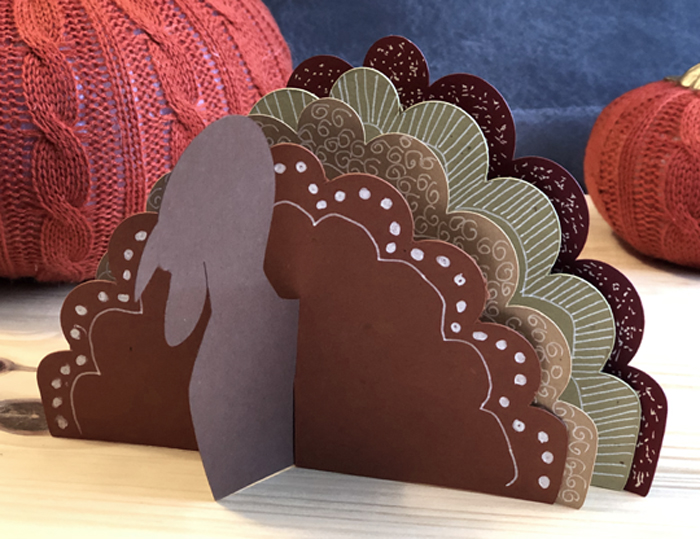 Assemble the paper turkey craft ( inserting each paper tail into the appropriate slot on the body of the turkey) with the smallest feather closest to the turkey head. Each inserted progressive piece is larger.
That's it! Make a couple of turkeys and place them on your table for a beautiful Thanksgiving holiday decoration. You could also add a name to each and use it as a name place card. Whatever you choose to do they will be an adorable addition to your table decor.
Paper Turkey Craft Zip Files