Now that we are all stuck in our homes due to the Carona virus quarantine regulations, it is a good time to craft with your kids. Paper bead jewelry is something you can do with almost any age group. It's easy, quick and a lot of fun. You do get a little messy from the paints but that just adds to the creative process.
You can make paper beads using any type of paper, but we prefer watercolor paper for this project. Watercolor paper is thick, easy to paint and produces beautiful round, fat thick beads that kids will love. So gather your supplies and start creating!

Supplies Needed to Make Paper Bead Jewelry:
Watercolor paper
Watercolor paint tubes or acrylic paints
Black twine
Paintbrushes
Scissors
Glue
Clear nail polish
Paper Bead Template
Plastic pony beads
Bowl of water
Foam paper plate
Paper bead template (available for download at the end of this article)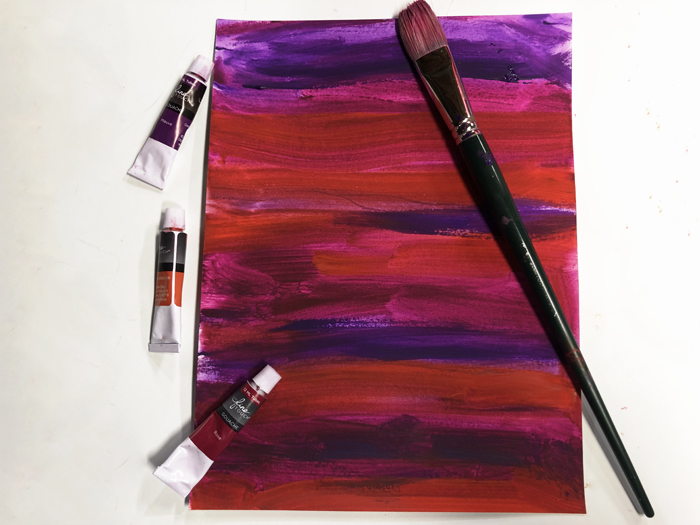 Before you begin, download the PDF paper bead template (the link is at the end of this article) and print it out on cardstock. Cut the triangle shape out with scissors and put it aside. You will use this later as a template for your beads.
Dip your brush in plain water and wet your watercolor paper. Place a dab of watercolor paint onto the foam plate. Add a little bit of water to thin out the paint, dip in your brush and let your inner artist shine! Brush the watercolor paints onto the watercolor paper and let the paints blend into each other. You cannot fail! There is no wrong way to color the paper.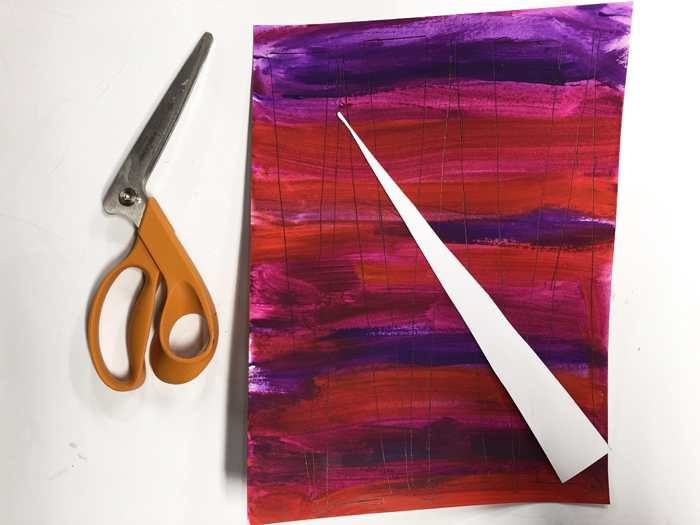 After your watercolor paper is dry, use a pen or pencil to trace the bead template onto your paper as in the photo above. Cut your triangle shapes out with scissors. You are now ready to roll and paste your beads.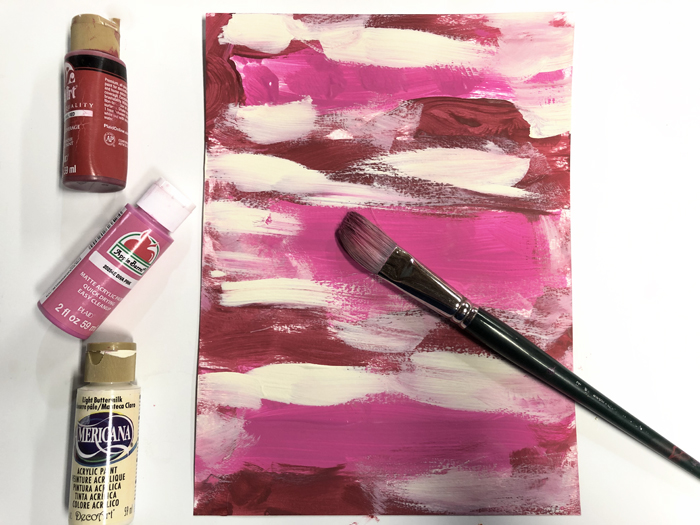 We suggest using watercolor paints that come in tubes, but you really can use any type of paint. If you choose to use acrylic paints make sure to layer only one color at a time onto the paper and let it dry between layers. We found this out the hard way. You will end up with a single blended color if you do not let the paint dry between layers.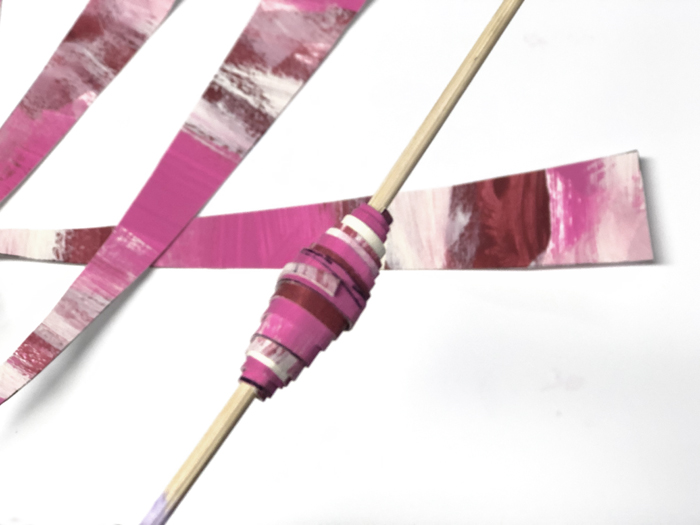 After you have cut out your bead triangles, you are now ready to create the beautiful paper beads. Take a wooden dowel or a shish kebob skewer and place the thick end of the paper triangle onto it. Roll the paper triangle around the wooden dowel and glue the paper end to the body of the bead. Make sure the glue is dry, and then remove the bead from the dowel. That's it!
If you want to add some shine to the beads, coat them with clear nail polish.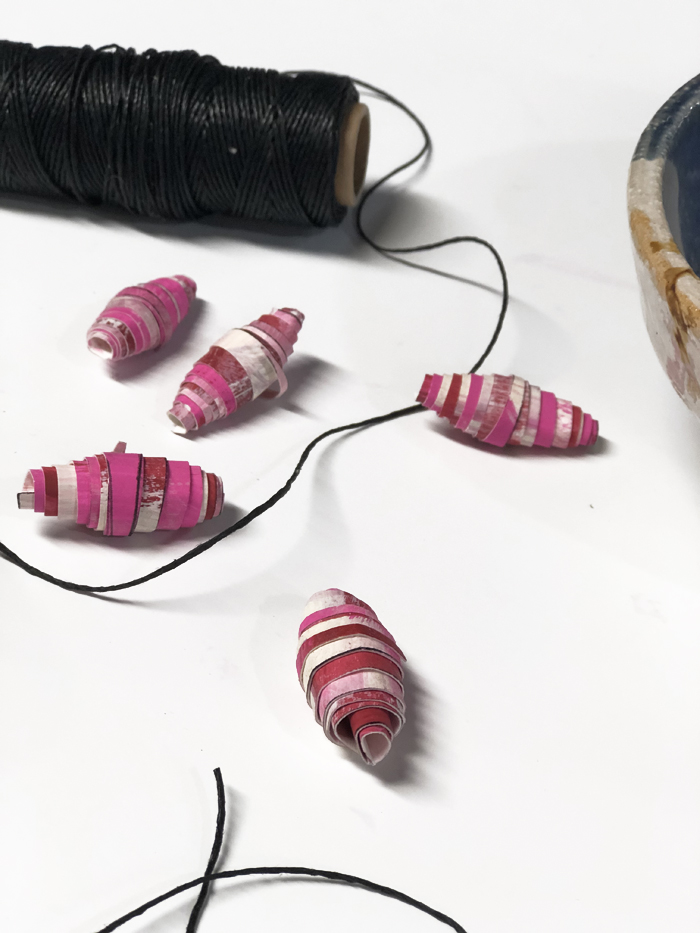 You are now ready to make some necklaces or bracelets that your kids will have fun wearing. Just load the paper beads onto some black string, or any type of string you have on hand. If you want you can add some plastic pony beads for fun.
Tie the string and place around your neck or wrist. Enjoy your beautiful creation!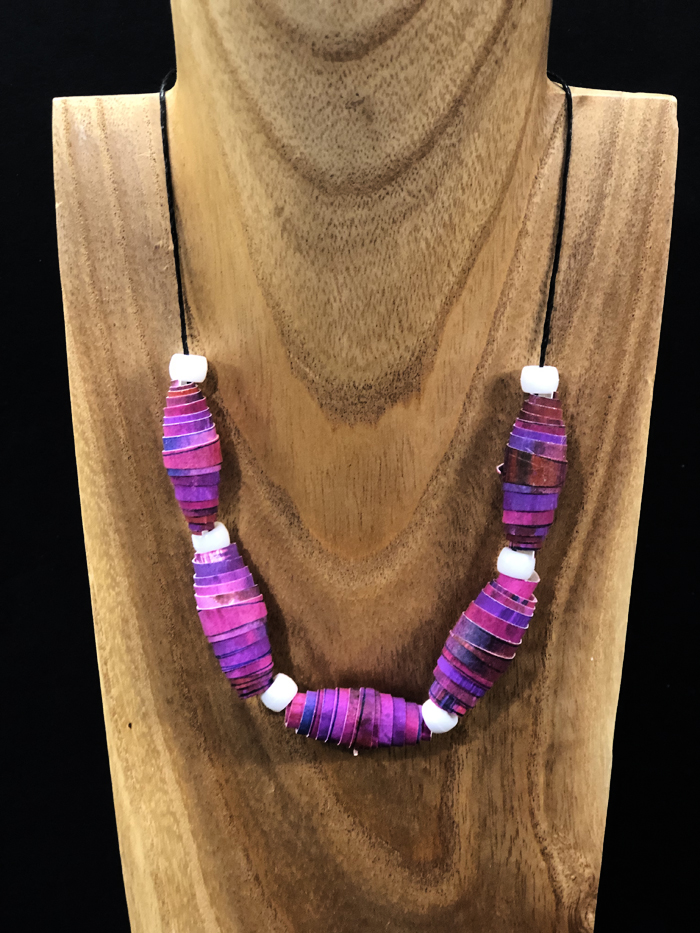 Paper Bead Template Free PDF Download