Make Some Memories  Crafting Easy DIY Birdseed Ornaments With Your Kids
Every winter when it's cold and dreary outside, we like to make birdseed ornaments for our feathered friends. This craft is economical and so simple. These easy DIY birdseed ornaments will have birds flocking to your feeder or tree branches quickly. What a wonderful opportunity to spend quality time with your children watching the neighborhood birds, while teaching them the birds names, markings, and habits. It is never to early to help your children develop deep love and respect for wildlife.
These birdseed ornaments make look complicated but trust us, they are so easy to make. Even younger children will be able to help create the feeders with just a little bit of help from mom!
The ornaments also make wonderful Christmas gifts, decorations or can even be used for weddings. There is just one downside with this craft. The ornaments are only for cold weather, heat and humidity will melt them.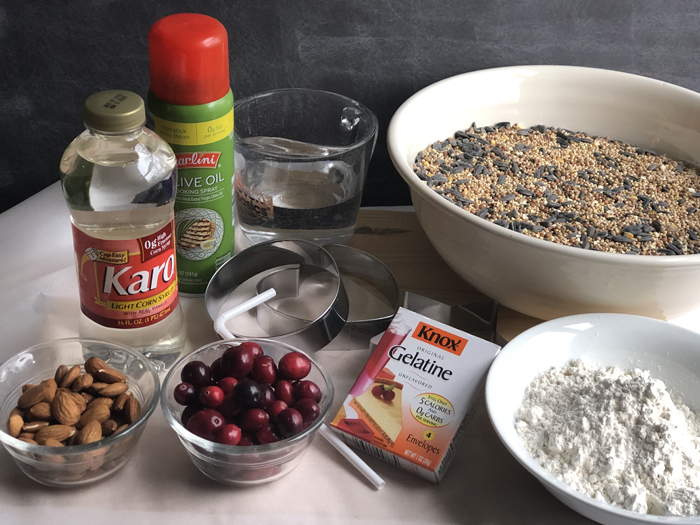 Supply List
2 packets Knox gelatin
1 cup of warm water
6 Tbs. light corn syrup
1½ cups all-purpose flour
8 cups birdseed
Dried fruit, fresh cranberries, and nuts (optional)
Nonstick cooking spray
Paper straws cut into 3-inch lengths
Decorative twine
Latex or rubber gloves
Parchment paper
Decorative cookie cutters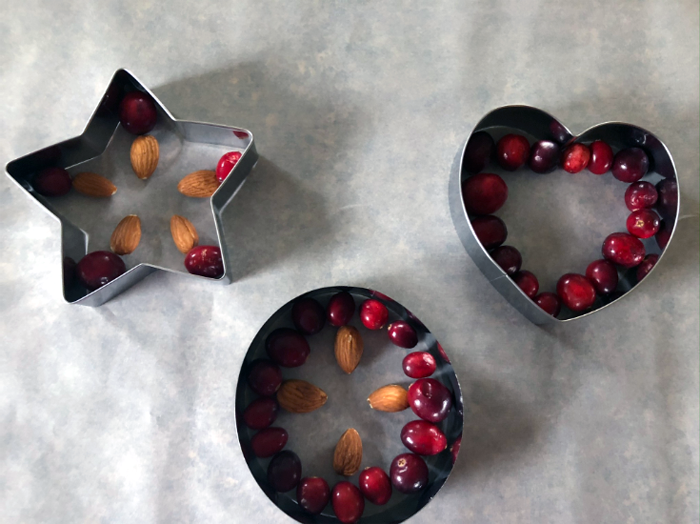 Place your cookie cutters onto a sheet of parchment paper and spray the insides with nonstick cooking spray. If you wish to add cranberries and nuts to your easy DIY birdseed ornaments make sure to place them in a pleasing design inside the cookie cutters.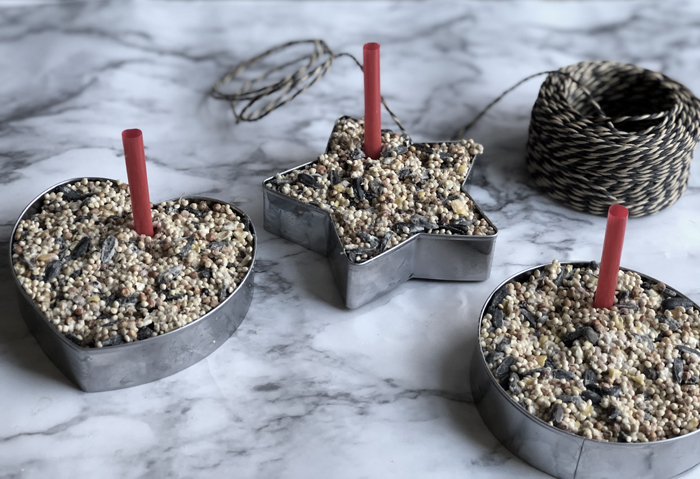 2. Add a cup of warm water and the gelatin packets to a bowl and stir gently, then add the corn syrup and flour and mix well. Stir in half of the birdseed with the ingredients in the bowl and mix the ingredients well. Add the rest of the birdseed and continue to mix together.
*A quick tip I found that the easiest way to combine the ingredients is by hand. Just put on some latex gloves to protect your hands and mix away!
3. Cut straws to about 3 inches in length. Place the birdseed mixture into the cookie cutters and add a straw to make a hole for the twine holders.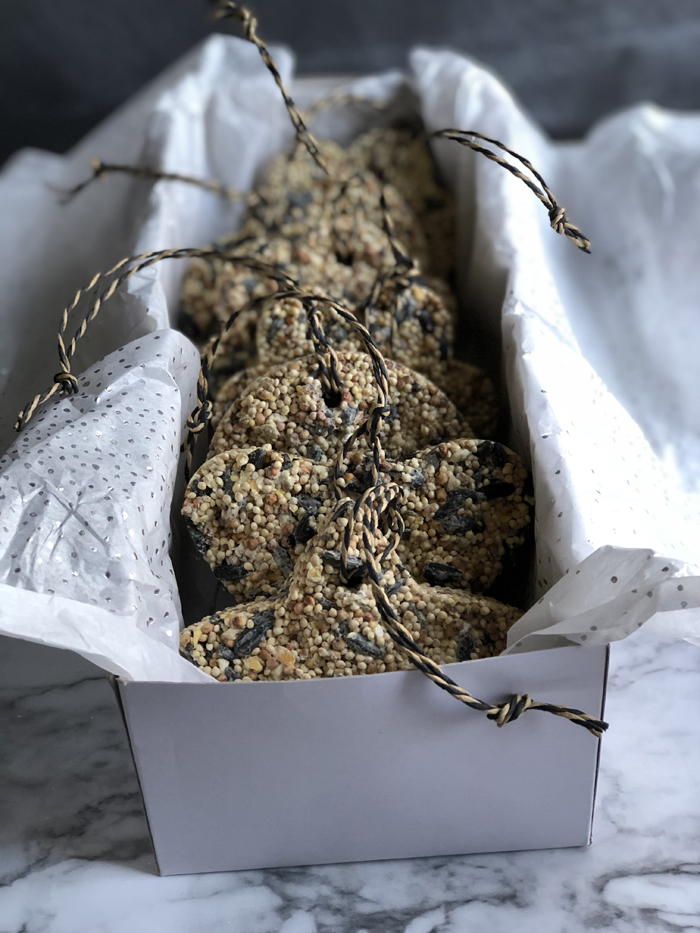 4. Allow the easy DIY birdseed ornaments to dry for about a day. Do not store them in airtight containers as the birdseed ornaments will get moldy. Add the twine after the ornaments are completely dry. If you want to give these as presents the best presentation is to place them in a paper box surrounded by tissue paper. They will look lovely and the recipient of the gift will be delighted.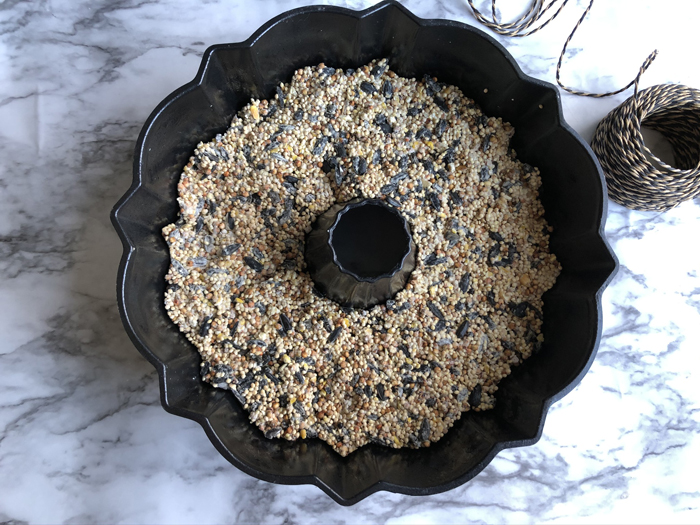 Another alternative is to spray a bundt cake form spray with nonstick spray, then fill with the birdseed. Allow the birdseed to dry approximately one day and then gently remove it from the form.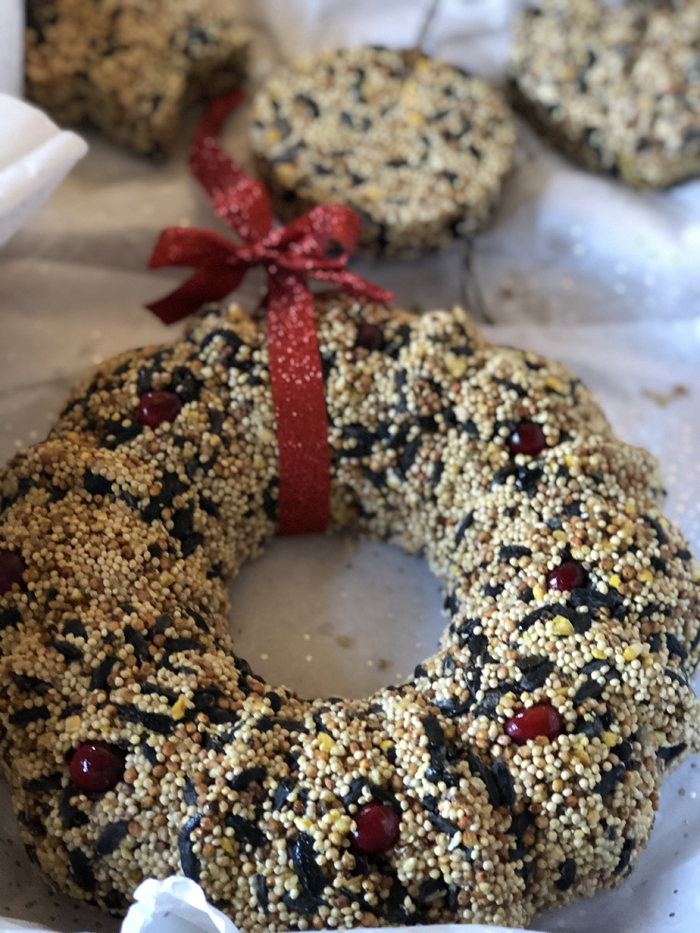 The birdseed ornament will look like a wreath. Tie a festive ribbon onto the wreath and hang outside. Watch through your window as your yard quickly fills up with songbirds. Simply lovely!