How to Make Dried Orange Slices for Holiday Crafts and Home Decor
Fall and the Christmas holiday season are the perfect times to make crafts and home decor projects from dried natural sources. One of the easiest, and also pleasantly fragrant Christmas and fall craft  item is dehydrate orange rounds.  Dried fruit segments are available for sale in craft stores and on craft sites, but why pay more when it is so simple to make them at home? You can also use this technique to dry grapefruit, lemon and lime slices.
By the way, these dehydrated fruits are also edible. Put some in your glass of tea and enjoy! Store them in a plastic bag and they should be fine for a long time. The orange shapes are a burnt yellowish color at the start and slowly deepen to  beautiful amber  with age.
Gather together these supplies:
Oranges
Sharp Kitchen Knife
Cookie Rack
Baking Sheet
Paper Towels
Preheat your oven to 200 degrees.
The first step is to cut  the fruit into rounds that are 1/4 inch thick. Gently wipe each round with a paper towel to remove excess juice.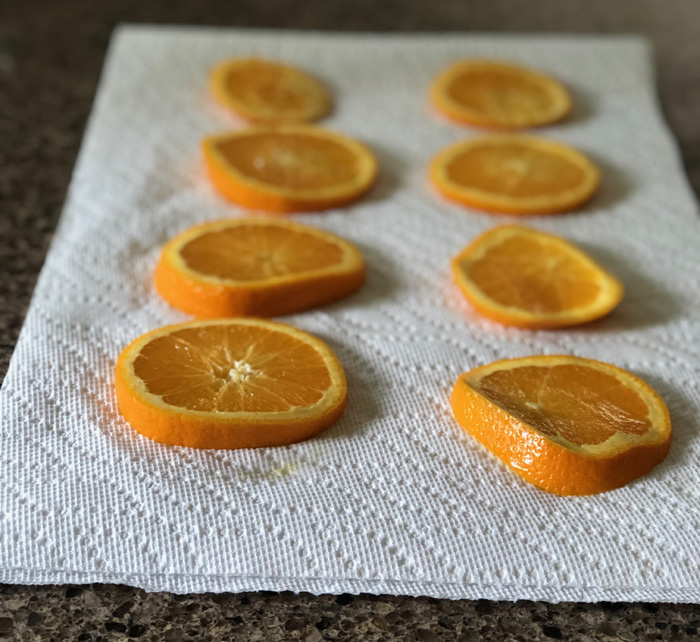 Place the metal rack (I use the metal racks that are for letting cookies cool) on a metal cookie sheet then gently place the orange slices onto the metal rack in a single layer.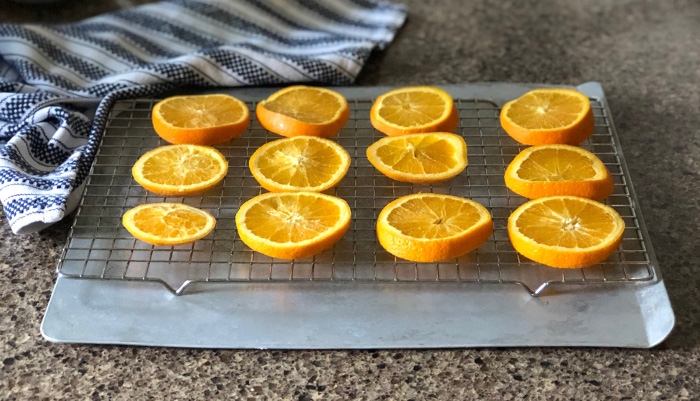 Let the orange slices dry in your oven for 2-3 hours. You may have to leave your orange slices a little longer in the oven depending upon the size and thickness of the slice. After you remove them from the oven, let the oranges cool. Once they are cool to the touch they may still be a little sticky, but will become less so with time.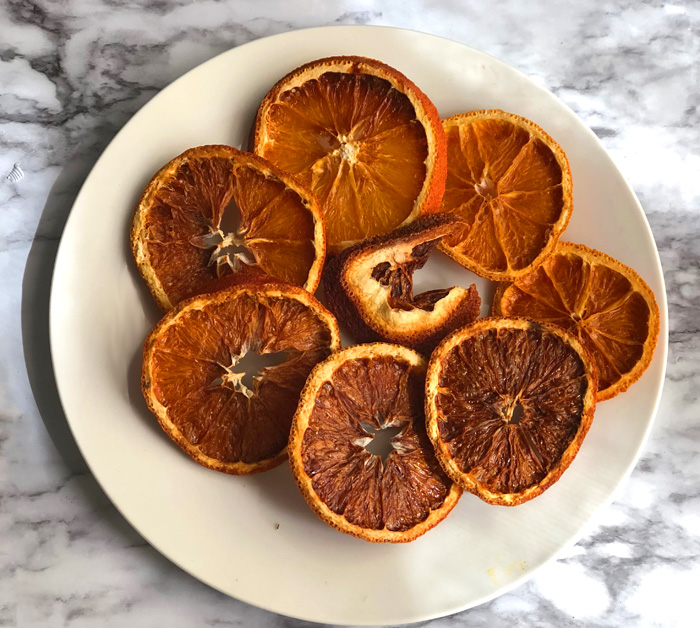 After the slices are dry you can now use them for your craft projects. Dried orange slices make lovely garlands, home decor projects, potpourri, and Christmas tree ornaments. Just use your imagination. The following photo is an example of the dried slices used in home decor. Fill a cute metal tray with pine cones and other natural objects and then add dried orange slices to enhance the display. Lovely!