A Craft That Will be the Hit of Any Party
Paper cake favor boxes are a lovely way to thank you for guests attending a bridal, wedding or baby shower. These party favors look so cute, but don't have any calories! They are constructed from cardstock and are filled with little trinkets or even a slice of real baked goodness. Make some paper party displays today that are not only beautiful table decorations but are also a delightful party gift your party guests will love.
The craft is a paper creation made up of 12 individual slices, which form a round cake when place together. Each slice is a paper container which can be filled with candy, small gifts or anything the hostess of the party wishes to give her guests as a token of her appreciation.
Print, Cut and Glue the Paper Cake Favor Boxes
Each paper favor box is made from an 8.5 x 11  sheet of cardstock. Just print the pdf download onto the page of cardstock, cut and glue. It is that easy! This craft looks fabulous displayed on a real stand or plate and also works well as a table centerpiece.
You can wrap the favor boxes with a piece of ribbon to simulate icing, and tie the ribbon ends together. Top each faux slice with a paper flower, butterfly, or some frou-frou. My example photo features little silk hydrangeas and green cardstock paper leaves.
Make one "paper cake" for each table at your event, and you will have some thrifty party decor as well. Cake favor boxes are little treasures that are quite beautiful and very easy on the pocketbook as well!
Supplies Needed for Cake Favor Boxes:
12 sheets Beige 8.5 x 11-inch cardstock
One sheet green cardstock
Glue Runner
5/8 inch pink ribbon
Scissors
Bone folder
Ruler
Hot glue gun
Small silk flowers (I used tiny hydrangeas)


Print the PDF Template Onto Cardstock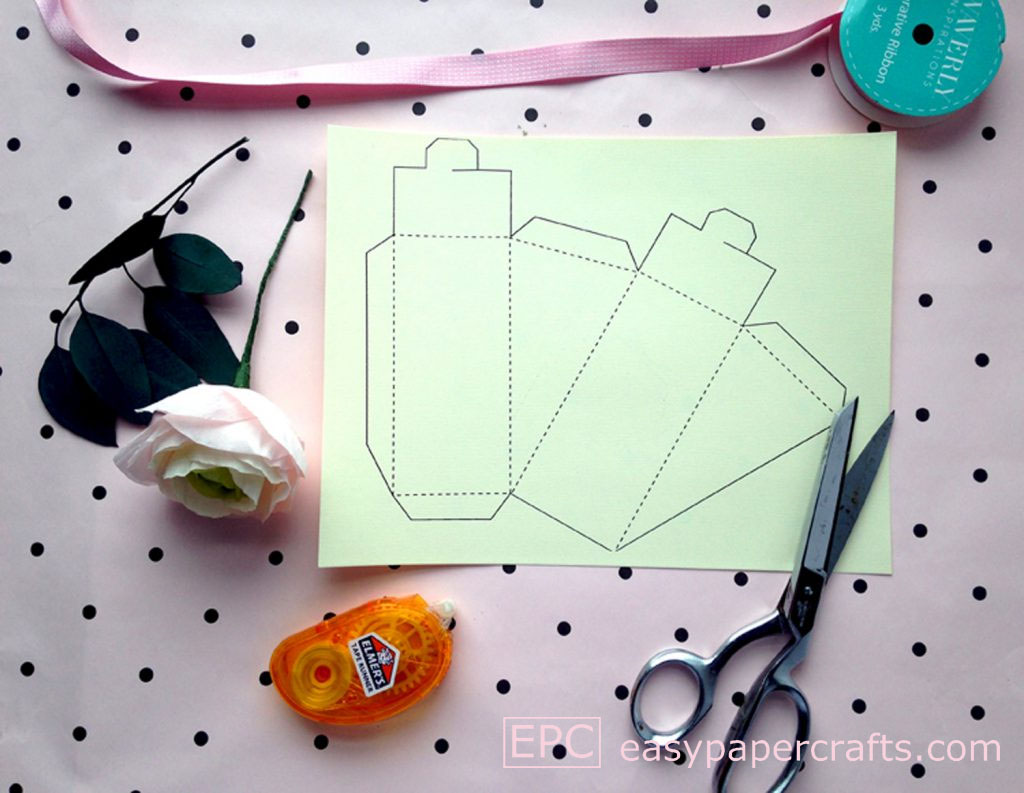 Download the free printable PDF (electronic die cut files are also included for those that wish to use their digital die cut machines) and print onto the twelve sheets of beige cardstock.
Cut the Printed Paper Cake Template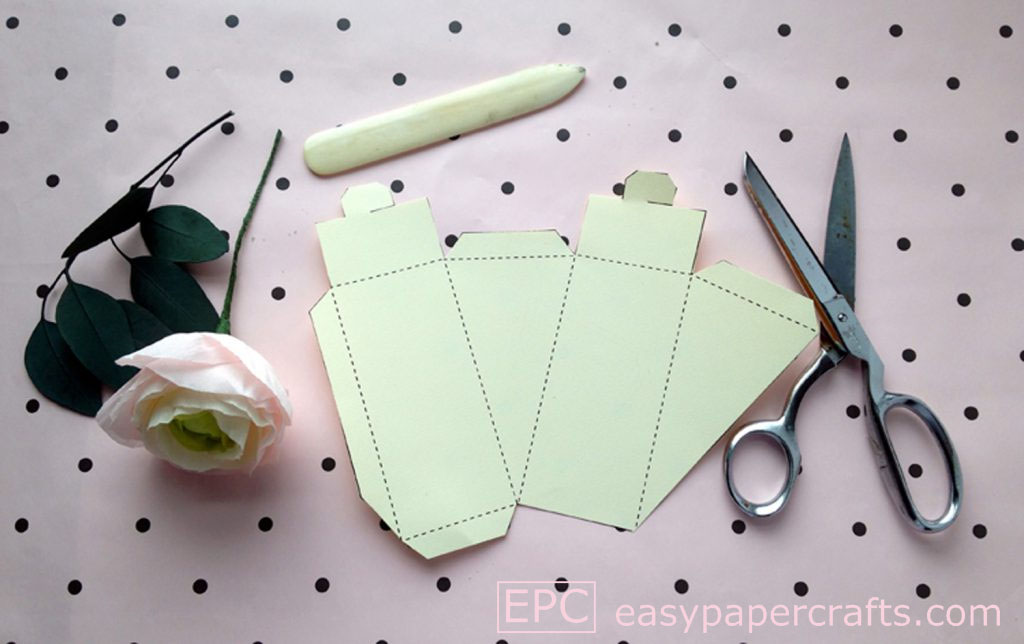 Cut out twelve paper cake slice templates with scissors or your digital die cut machine.
Score and Fold the Template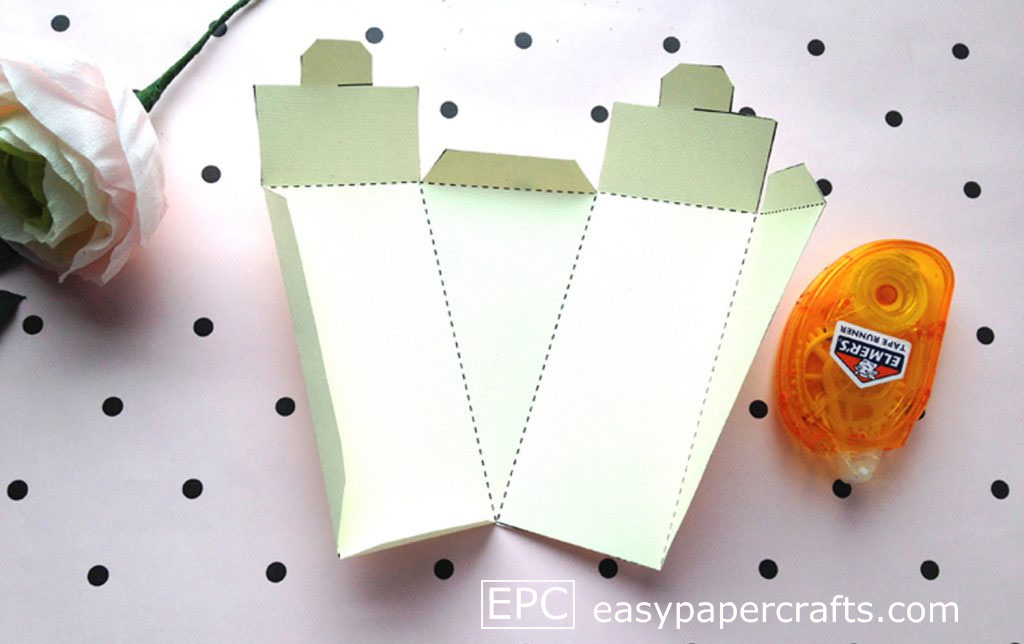 Score the fold lines of the template with a bone folder and ruler. Once you have scored all of the fold lines, crease them sharply with your fingers and fold into place. Use the glue runner to run adhesive onto the side and top flaps of the paper cake template. Gently fold the flaps into place and press firmly with your fingers to secure the adhesive.
Wrap the Paper Cake Slice with Ribbon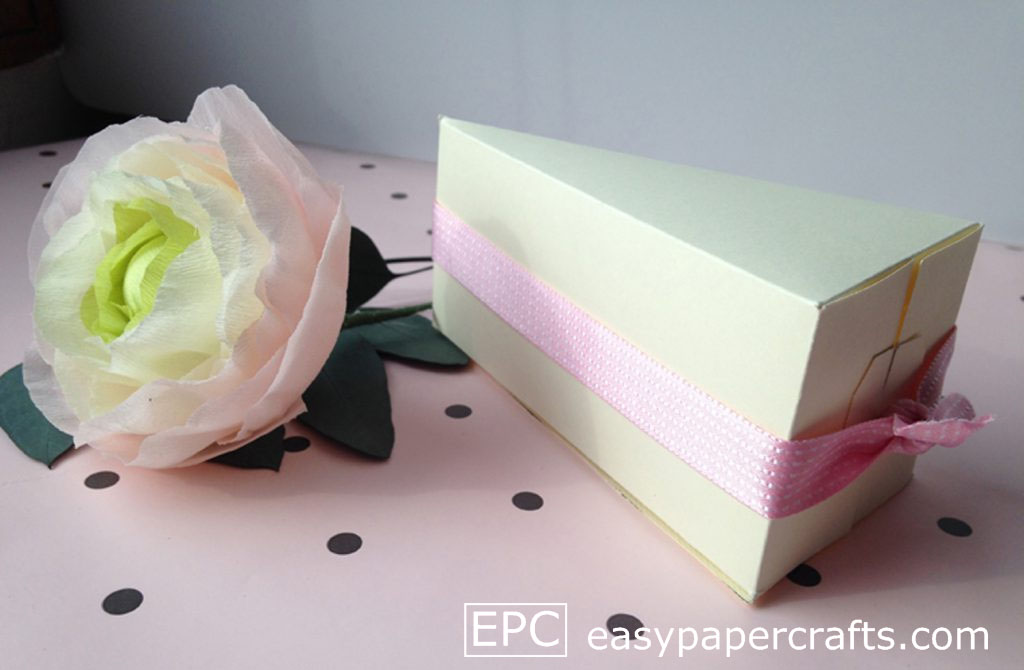 Fill the paper cake favor boxes with candies, small gifts or whatever you choose to give your guests. Finish the favor box with a beautiful tied pink ribbon.
Attach Silk Ribbon and Leafs to the Top of the Paper Favor Box Slice
Silk flowers and two green cardstock leaves (PDF printable for a leaf is included in the download) are attached with hot glue. Arrange the finished paper cake slices into a round cake and place on a cake stand or cake plate. That is it! A beautiful party decoration and cake favor boxes are a craft that your guests will love! So easy, so pure and so, so lovely!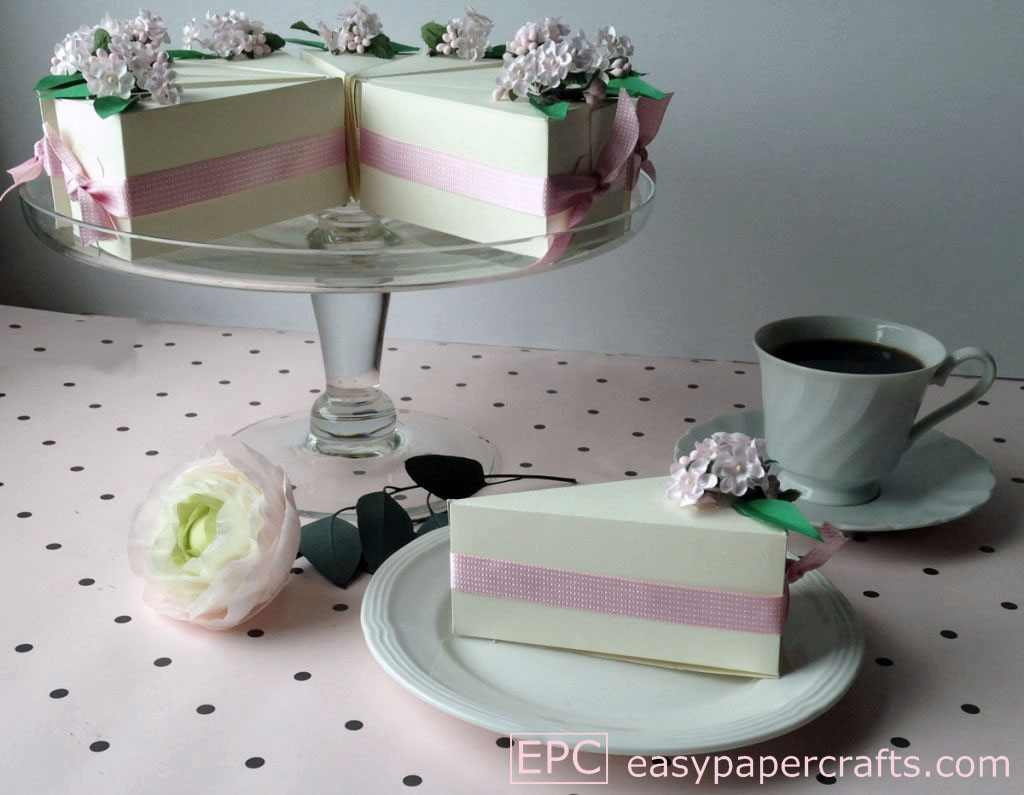 Save
Save
Save
Learn how to make some Party Poms to go with your paper cake décor.