Gratitude Journal-Free Printable
Fall crafts for adults are a lovely way to celebrate the Thanksgiving season. Start a new tradition this Thanksgiving. Download this beautiful gratitude printable and make a journal to use as a keepsake for your Thanksgiving dinner. Pass the journal around the table and have everyone write down for what they are grateful. What an excellent way to make memories and bond as a family.
Gratitude Journal – Free Printable from Kori Clark
4 Simple Ways to Make Incredible Art On Leaves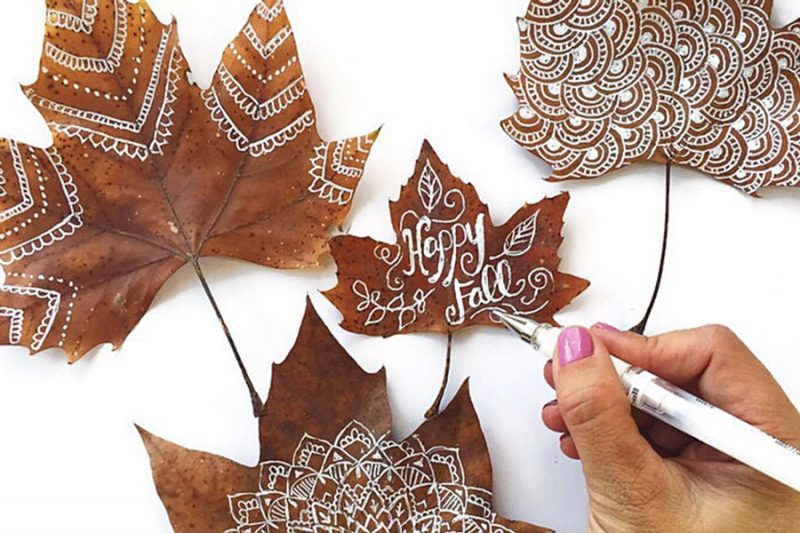 Autumn is my favorite season. The air is crisp; the temperature is cold enough for sweaters, and autumn leaves are in their colorful glory.
Did you know that fall leaves can be painted and used as art? The secret is to press your leafs flat in the book before coloring them.
Fall leaves can be colored with a variety of mediums from watercolors to oil pastels. You can even use liquid chalk. Make sure to hop on over to ooly to take a look at the stunning examples of leaf art by Sam Sarles. You will be inspired to start making some leaf art of your own.
This craft would be perfect to keep both children and adults entertained will waiting for your Thanksgiving Day feast.
4 Simple Ways to Make Incredible Art On Leaves from ooly
Fall Crafts for Adults DIY Paper Pumpkins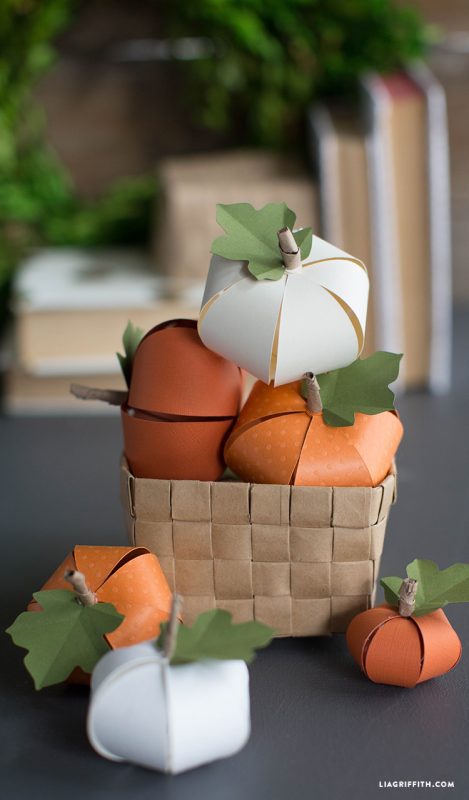 Celebrate Fall with these sweet little paper pumpkins in a basket! This is one of the nicest fall crafts for adults and is fast and easy to make with the help of a digital die cutter. Let Lia Griffith show you how. Make them in a variety of fall colors for a lovely tabletop decoration.
DIY Paper Pumpkins from Lia Griffith
Autumn Book Page Garland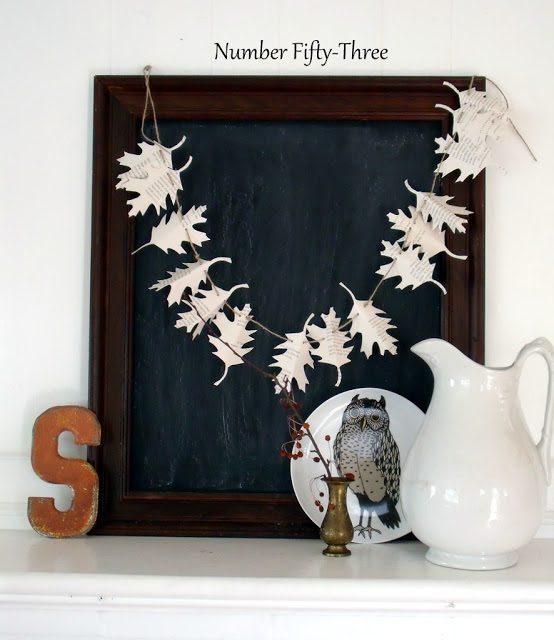 Garlands always add festive appeal to any occasion and are the perfect fall crafts for adults. Do you have old books in your house that you have no use for but hate to throw away? Recycle the books into an autumn craft. Make this adorable leaf garland from old book pages and twine, and hang in your home to add Fall ambiance to your Thanksgiving celebration. So cute! So easy!
Autumn Book Page Garland from Number Fifty-Three
Autumn Paper Leaf Craft Ideas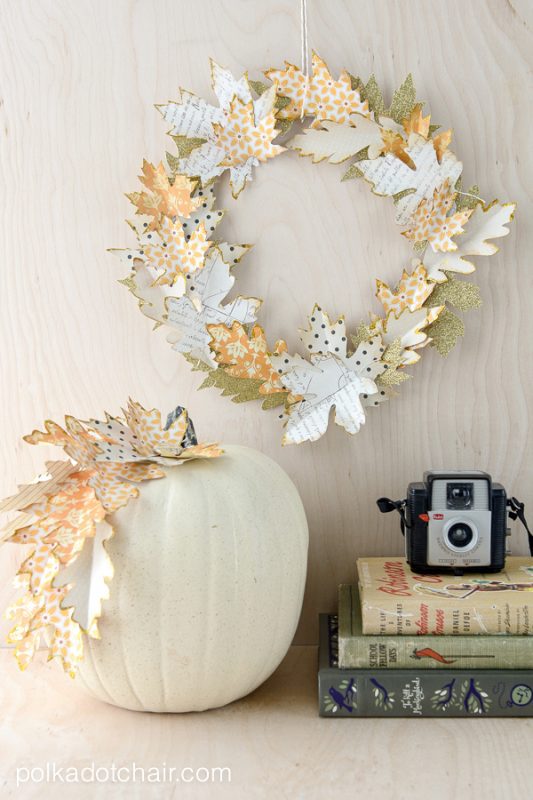 This autumn leaf wreath has a modern twist. It is made from paper leaves that are pale and cream colored rather than traditional rustic colors associated with fall. We think they look stunning!
Autumn Leaf Paper Craft Ideas from Polkadot Chair
Family Gratitude Garland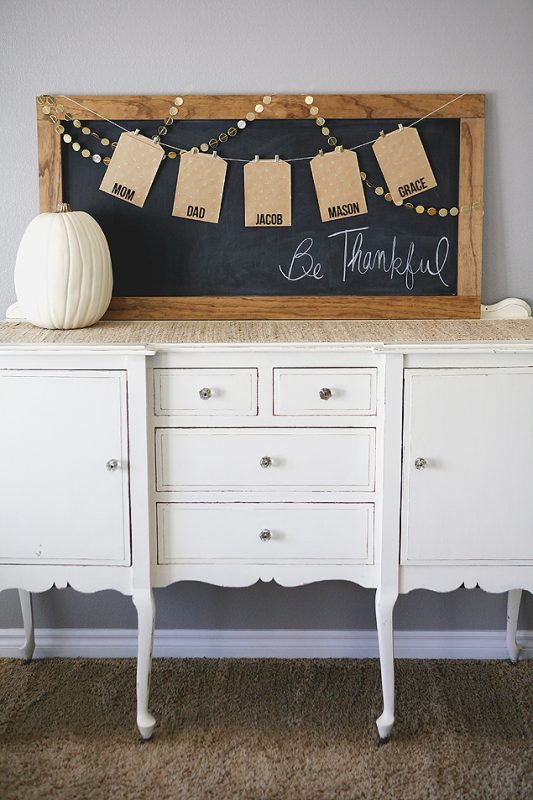 You have to love, love, love this Thanksgiving craft. Make a garland with paper bags.Label each bag with the name of your family member. Have them write what they are grateful for each day during November on a slip of paper and place it into their bag on the garland. Empty the bags and read the slips of paper on Thanksgiving! What an excellent way to start your Thanksgiving meal!
Family Gratitude Garland from Eighteen 25
Be Thankful Thanksgiving Mantel and Gratitude Frame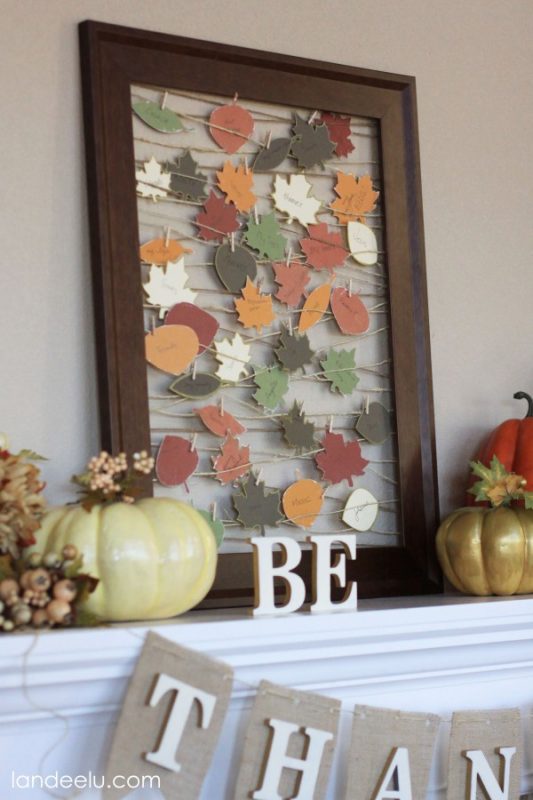 Make this lovely Thanksgiving fall paper leaf home frame. It is so pretty and looks exceptionally beautiful over a fireplace mantel. The craft is an updated version of the Gratitude Tree Craft that you see all over the internet.  Jute is attached to a picture frame, and paper leaves are pinned onto the twine with tiny pins. Expressions of gratitude are written on the leaves and displayed. This picture frame craft is a quick and easy home decor project that is perfect for the Thanksgiving holiday! Gotta love those fall crafts for adults!
Be Thankful Thanksgiving Mantel and Gratitude Frame from Landeelu
Make a Thankful Tree For Your Celebration Centerpiece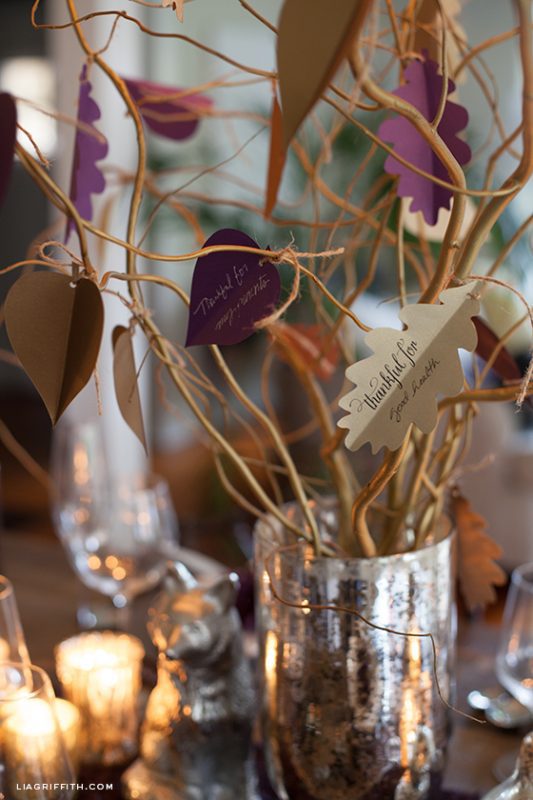 If you want to stick with the traditional gratitude tree for your table decor, make sure to check out Lia Griffiths celebration centerpiece. It has an upscale look when made with curly willow and a mirrored glass vase. Very elegant and sophisticated!
Make a Thankful Tree For Your Celebration Centerpiece from Lia Griffith
Galvanized Bucket With Candles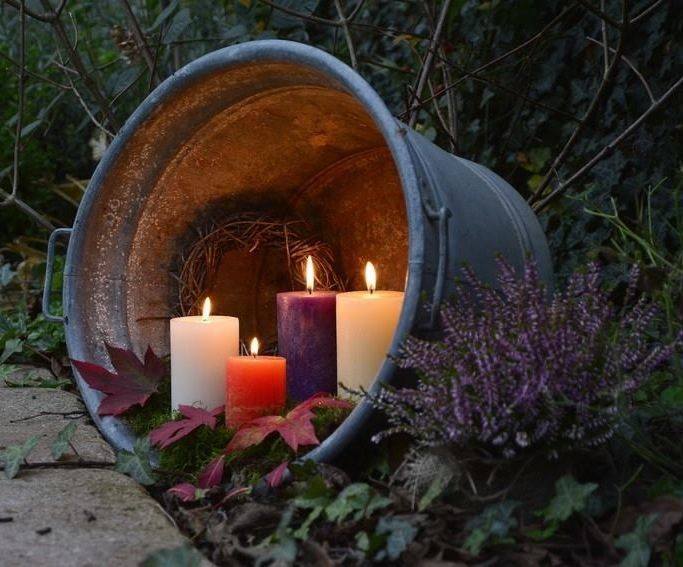 Make a statement this holiday! Brighten up the long, dark days of late fall with lit candles in buckets on your walkway greeting your guests as they approach your home. This display is a warm, loving and inviting welcome your friends will remember.
Galvanized Bucket With Candles from Inspiration Lane
Save
Autumn Paper Leaves Wreath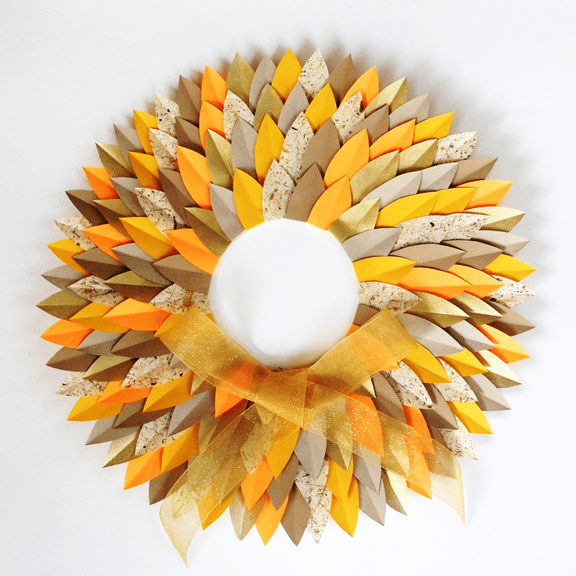 Decorate your door or wall with this lovely fall colored leaf wreath.Fall crafts for adults have never been this pretty and festive!
Autumn Paper Leaves Wreath from My Paper Arts
Save
Save
Save
Save
Save
Save
Save
Save
Save
Save
Save
Save
Save
Save
Save
Save
Save