Halloween is one of my favorite holidays.  I love the decorations, costumes, and candy. It also occurs during my favorite time of the year. I just love fall!
This paper craft project is easy and cheap to make. It just takes a little time, but the results are amazing! All you need is some paper, glue, and a whole lot of patience.
I wish I could take credit for the artwork, but I can't. The pdf files are from HGTV, and they were originally intended to be used as templates to cut pumpkins. I think they work quite well as lanterns! Don't you agree?
You can download the templates, courtesy of HGTV here.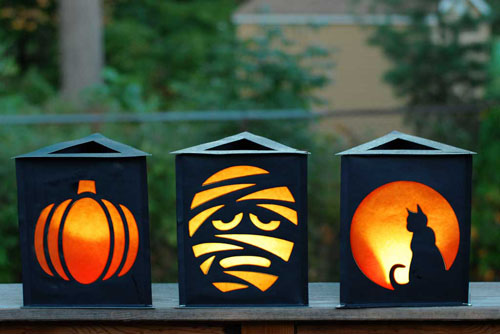 Supplies:
Three sheets black cardstock
bone folder
ruler
freezer paper
orange tissue paper
black poster board
Xacto knife or die cut machine
strong glue
stapler (optional)
Directions:
Using a ruler measure .5 inch from outside of cardstock, and score with the bone folder.
Crease scoreline.
Cut a .5 in square from each corner, as in the example.

Transfer HGTV pattern to the center of cardstock and cut out with a Xacto knife.

Cut a piece of 7.5 x 10 in the piece of freezer paper.
Cut a piece of 7.5 x 10 in the piece of orange tissue paper.
Place freezer paper shiny side up and top with orange tissue paper. Iron the tissue paper to freezer paper with medium heat.   You can use tissue paper without the freezer paper, but I like the lantern to have some stability. There is still an adequate amount of transparency to let the light shine through with freezer paper.Greensneekers.com has an excellent tutorial if you are not sure how to work with freezer paper. Check it out!
Glue, the tissue paper/freezer paper, insert to the back of your card stock cut out.
Glue the vertical edges together.
Download the templates for the top and bottom pieces of the lantern here.
Cut one top and one bottom piece for the lantern out of black poster board.
Glue the bottom and tops to the lantern.
You can staple the edges to give added strength to your lantern, if you don't mind the look.
(Optional) If you want to hang or carry the lantern, punch some holes into the top, and add string or wire as a handle.
* I have added another drawing to help give the tutorial clarity. Hope this solves some of the issues people were having. Rita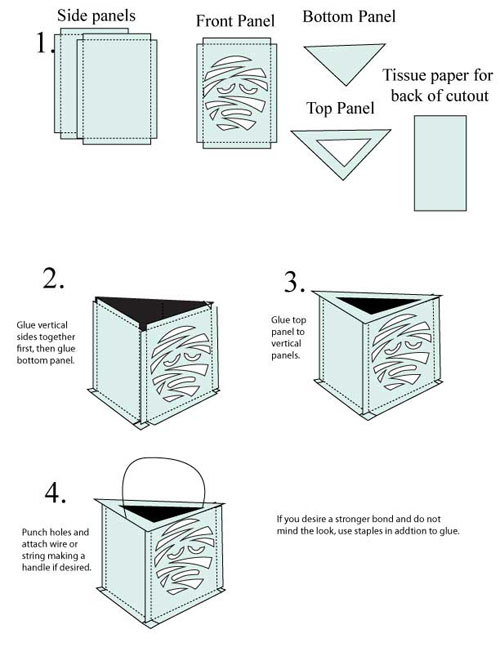 You can use battery operated tea lights or regular candles to illuminate your lantern.
Always use common sense when burning candles. Never leave a burning candle unattended.
Save