Edit: I now know all about Zentangle and Doodle Art :).
OK, I admit it. I am way behind the times. In fact, I am a couple of years behind the times regarding doodle art.
I had no clue what Zentangle was until about a week ago. I was strolling through my favorite artist supply store and ended up in the book section.

I happened to notice a Zentangle book and was immediately drawn to the beautiful Zentangle drawings on the book's cover. These drawings looked complicated, beautiful, and mesmerizing all at the same time. Why did I not know about this? How come I hadn't been told?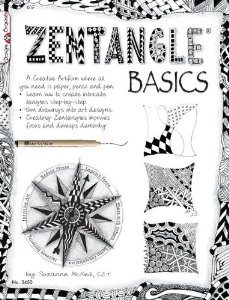 As I browsed through the book, I saw the steps it took to make complicated patterns and shapes.  It didn't seem too hard at all. I bought the book, went home, and started doodling. It was quite fun and relaxing; I was hooked!
I came up with the Zentangle inspired bookmarks pictured above. Feel free to download the pdf file below and print your own bookmarks. One can never have too many bookmarks or books for that matter 🙂
My bookmarks were drawn and then scanned into the computer. I then used Adobe Illustrator to clean up the art. This, however, is not necessary. Often beautiful hand-drawn works of art have a character that can never be reproduced by computer software. The choice is yours!
Zentangle Inspired Bookmark Printable
Save