If you have followed some of my previous posts, you know that I am a big fan of doodle and Zentangle art. This art form is one of the best stress relievers out there and is so easy to do. Anyone can get beautiful results! Give it a try sometime; I promise you will love it!
If you want to learn how to create your own beautiful works of art, I suggest you check out the Zentangle site and read some of the Zentangle books such as this: Joy of Zentangle: Drawing Your Way to Increased Creativity, Focus, and Well-Being
These sites have excellent instructions and design ideas.
I was in a doodle art kind of mood today and decided to work on what I consider an upscale type of Valentine card. I wanted it to be unique and different from the run of the mill cards out there, so I come up with this pretty valentine heart,  which I am offering as a free printable. I have also included die cut files for the petal/pochette envelope that surrounds the card. Make this card for your true love following the directions below!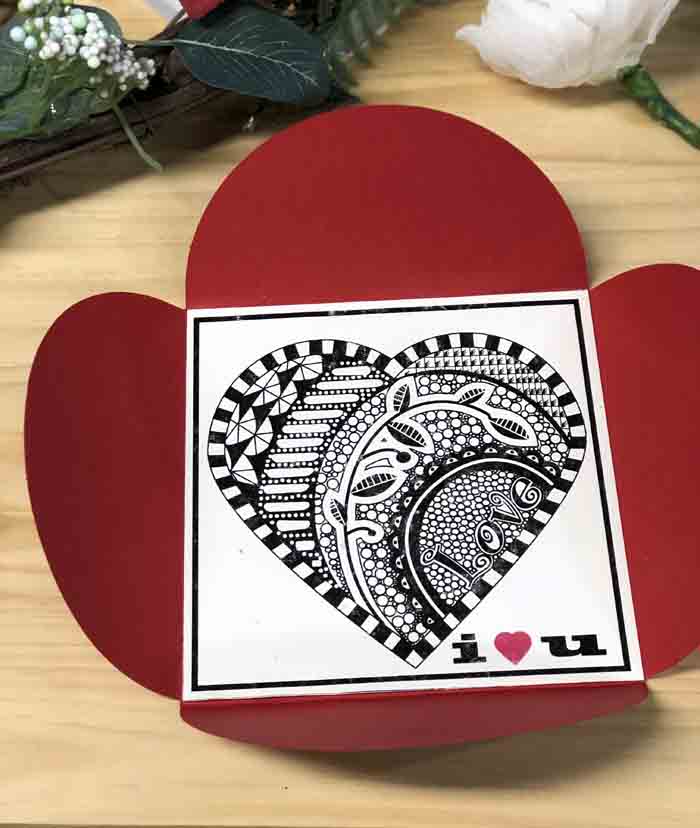 Supplies:
12x 12 sheet of red card stock
8.5 x 11 sheet of cream card stock
double sided tape
scissors and or die cut
beautiful ribbon
Instructions:
Download the free printable and die cut files with the link below.
Print the heart on cream-colored card stock.
Cut the heart on the outside lines. You should now have a square that measures 5.125 x 5.125 inches.
Cut out the petal/pochette envelope from 12 x 12 red card stock.
Attach the heart to the middle of the petal envelope with double-sided tape.
Fold the envelope using the photo below for guidance.
Tie the envelope with a pretty ribbon.
Now give the card to someone you care about! Wasn't that easy?
Free Printable Valentine and Petal Pochette Envelope Files
Save
Save