Making crafts from recycled objects is one of my favorite pastimes! I find it challenging to come up with beautiful art from things that would otherwise have gone into the trash. You may have read my article where I took an old chandelier and tried to produce as many projects as possible from the disassembled parts. The crystal gems (actually they are plastic) in the photo below came from that lamp. Although the butterfly scarf holder is brand new, I did have it for quite some time. I didn't hang any scarfs onto it, so this is a pretty good alternative use.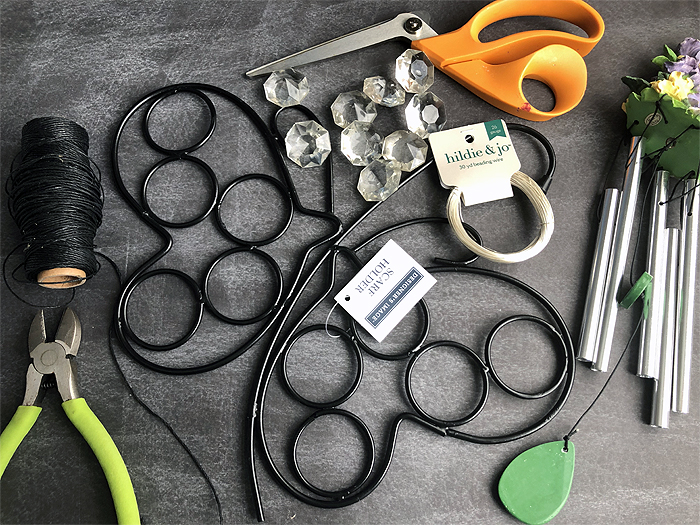 Supplies Needed to Make a Recycled Wind Chime:
Round crystal gemstones
Thick black twine
Wire cutters
Scissors
Old wind chime to be recycled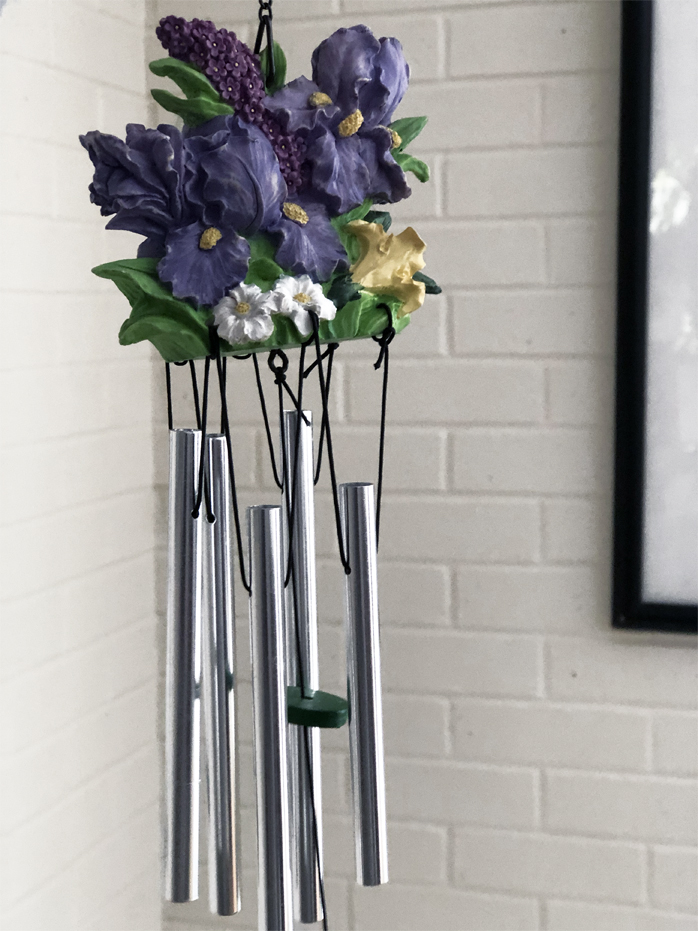 The first step is to disassemble an old wind chime. I had this floral chime and although there was nothing wrong with it, it just wasn't my style. I found it at a Goodwill Store for a very low price and thought I could recycle the chimes into another project .
The next step is to cut a piece of wire about 6-7 inches long with your wire cutter. Insert the wire through one of the holes in the crystal gemstone, pull the wire halfway through and then twist the wire. I only had 8 gemstones, so that is what I used, but there are actually 10 holes in the butterfly scarf holder. If you have more gemstones use them or  some other type of plastic gem to fill the spot. You can just leave the space empty like I did. It think it is very pretty with just the negative space. It's up to you and what you like best!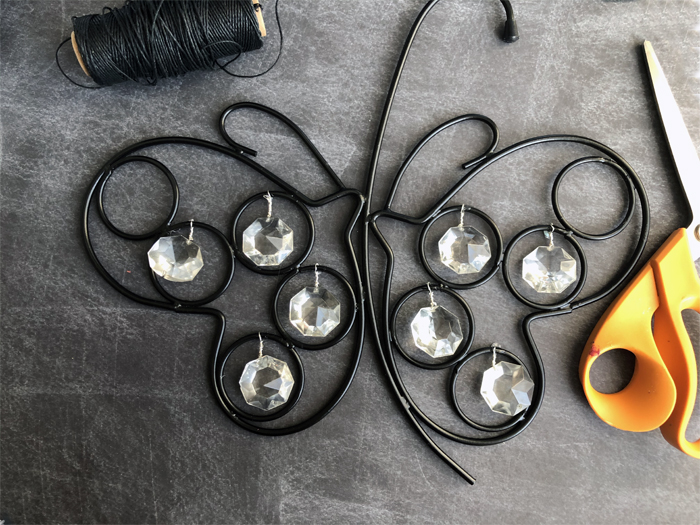 Lay your butterfly frame on a flat surface and place a wired gemstone in the center of the circle. Wrap the silver onto the circle frame. Continue to place and wrap each gemstone onto the remaining circle spaces.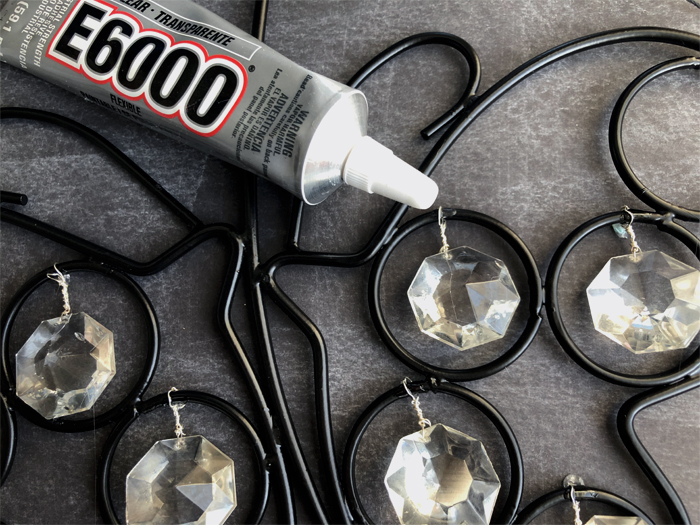 The gemstones will slip and slide over the round circle frames. This is an easy problem to fix! Just dab a little bit of E600 glue onto the silver wire top, and let it dry for a few minutes. Your gemstones will stay in place.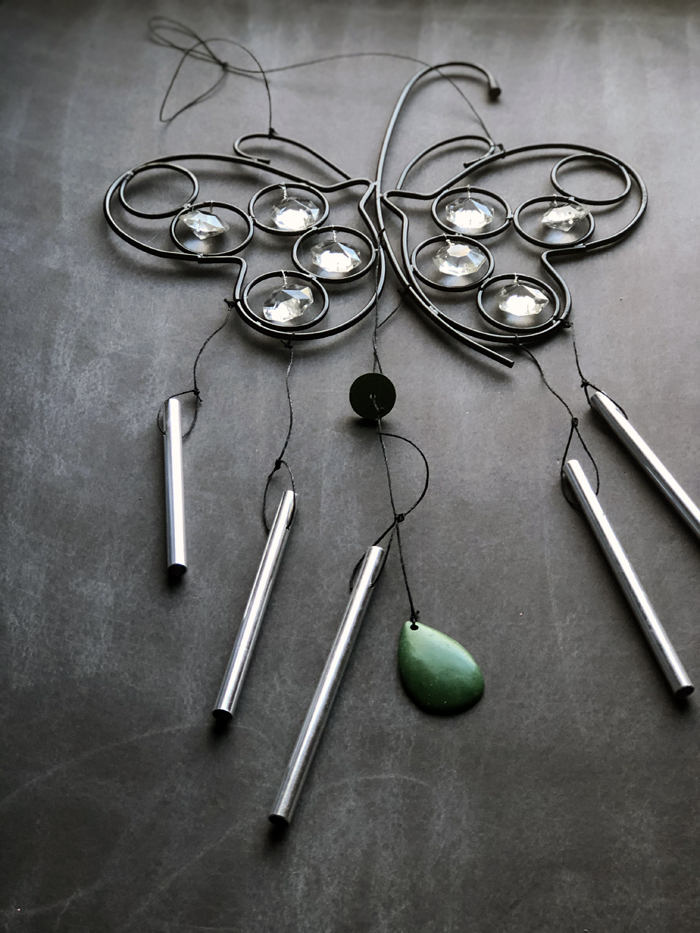 Tie black twine onto the chimes and then tie them onto the bottom of the wire butterfly frame. Attach black twine onto the top of the wire butterfly frame to use as a hanger.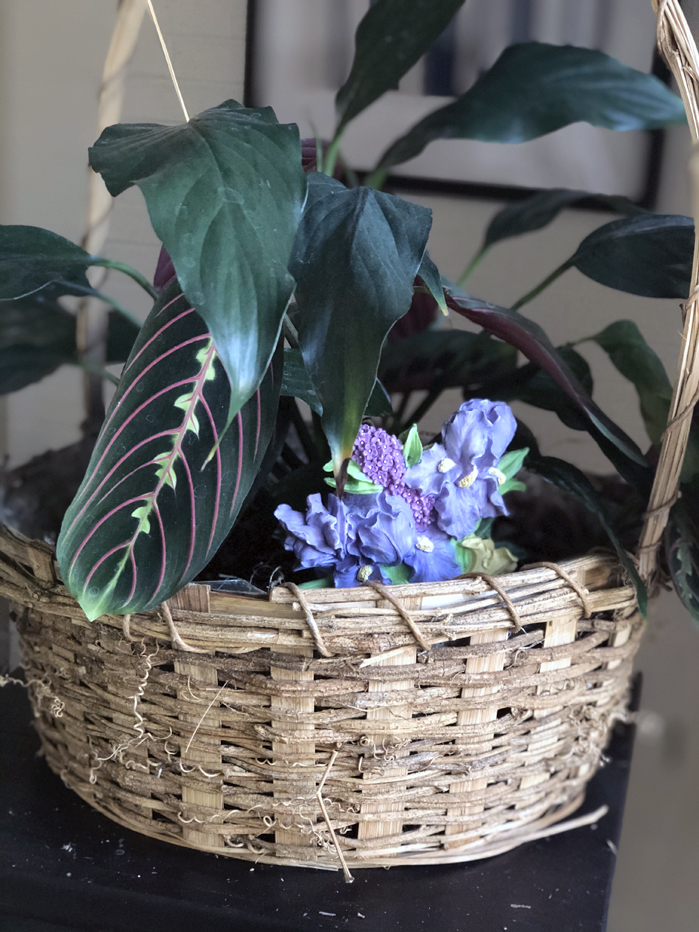 The object of this project is to reuse all of the pieces. I placed the ceramic flower top from the Goodwill Chime into a plant basket as a fairy garden decoration. I think it looks great there!
Click on my video and check out how pretty the chimes sound swaying back and forth in the wind.